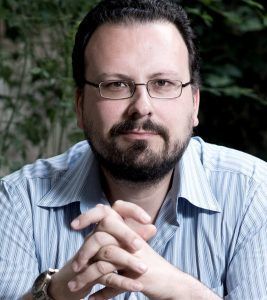 Ο Αλέξανδρος Χαρκιολάκης σπούδασε μουσική στο Ελληνικό Ωδείο, μουσικολογία και διεύθυνση ορχήστρας στο Πανεπιστήμιο του Sheffield και τo Royal Northern College of Music καθώς και φιλοσοφία και διοίκηση στο Πανεπιστήμιο Αθηνών.
Εργάστηκε στη Μουσική Βιβλιοθήκη «Λίλιαν Βουδούρη» του Συλλόγου Οι Φίλοι της Μουσικής και από το 2013 έως το 2017 δίδαξε στο ερευνητικό κέντρο για τη μουσική ΜΙΑΜ του Τεχνικού Πανεπιστημίου της Κωνσταντινούπολης (ITU), ενώ ήταν και διευθυντής της μουσικής βιβλιοθήκης Erol Űçer. Επέστρεψε στην Ελλάδα για να αναλάβει τη διεύθυνση του Συλλόγου Οι Φίλοι της Μουσικής τον Μάιο του 2017.
Έχει επιμεληθεί διάφορους τόμους με θέμα τη μουσική, ενώ μαζί με την Αύρα Ξεπαπαδάκου έχει συγγράψει το βιβλίο  Interspersed with musical entertainment': Music in Greek salons of the 19 th century. Είναι μέλος ΔΣ του ΕΤΟΣ – Κρατικής Ορχήστρας Αθηνών και μέλος ΔΣ του Μουσείου Μίκης Θεοδωράκης Ζάτουνας.